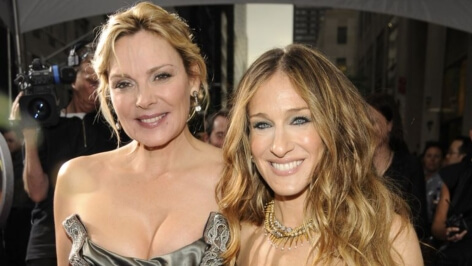 Sarah Jessica Parker Denies Feud with Kim Cattrall
Sarah Jessica Parker has slammed rumours that she is feuding with her former "Sex and the City" co-star, Kim Cattrall.
Rumours of a feud between the two emerged last year after it was claimed that Cattrall was the cause of the third "Sex and the City" film being cancelled, due to her diva-like behaviour.
Cattrall has since publicly slammed Parker, claiming she had a "toxic" relationship with her.
She later blasted the "Here and Now" actress on Instagram for "exploiting" the tragedy of her brother's death in February this year by offering her condolences via social media.
She wrote: "You are not my friend. So I'm writing to tell you one last time to stop exploiting our tragedy in order to restore your 'nice girl' persona."
In a recent interview, Parker set the record straight regarding her bitter relationship with Cattrall.
She said: "I'm not in a fight. I never fought with [Cattrall] … she has felt perfectly comfortable to say lots of things. That's the beauty of living in a democracy, but I have no apologies, meaning this isn't a catfight."
Image: Kim Cattrall. [online image] (2018) sourced on 31 October 2018 from:
https://hips.hearstapps.com/hmg-prod.s3.amazonaws.com/images/sarah-jessica-parker-kim-cattrall-satc-2-1507233178.jpg?resize=768:*