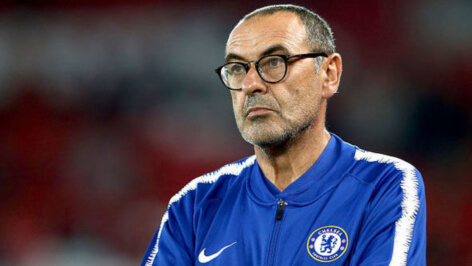 Sarri Slams Chelsea's Overconfidence After 2-1 Defeat
Chelsea coach, Maurizio Sarri, has accused his players of complacency following their shocking 2-1 loss to Wolverhampton Wanderers on Wednesday, 5 December.
Despite the Blues taking the lead early on in the first half, the Wolves' Raul Jimenez pulled an equaliser in the second half. Ultimately, a goal from Diogo Jota saw the Wolves claiming their first win in seven games.
Speaking to reporters after the match, Sarri said that his team's self-assured mentality changed following Jimenez's goal.
He explained: "After the goal for 1-1 … we were suddenly another team without the right distances and without our football … I am really very worried, not for the result but the fact that after the first goal we conceded we did not react very well."
The Blues coach added: "After this match we are less confident, but maybe it's better because sometimes my players show me that they have too much confidence."
Chelsea are now 10 points behind Premier League leaders, Manchester City,whom they will face this Saturday, 8 December 2018.
Image: Sarri has questioned Chelsea's inconsistent form in recent years. [online image] (2018) sourced on 6 December 2018 from: https://cdn.images.express.co.uk/img/dynamic/67/590x/Sarri-1024349.jpg?r=1538178343220