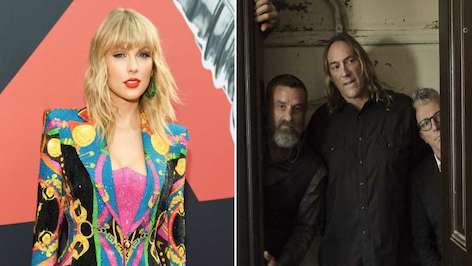 Sharp Tool Likely to Cut Taylor Swift From No. 1 Spot
Taylor Swift currently holds the number one spot on Billboard's Top 200 Album chart, but rock band Tool are likely to knock her off that perch – something that her fans are upset about.
The 29-year-old "Shake It Off" songstress released her seventh album "Lover" on 23 August, debuting in the top spot on Billboard 200, and it has received positive reviews.
Tool released their latest album "Fear Inoculum" last Friday, 30 August, to critical acclaim – an amazing feat considering that the band's last album "10 000 Days" was released 13 years ago.
"Lover" is expected to sell between 185 000 to 200 000 copies by Monday, whereas "Fear Inoculum" is looking to have 240 000 to 260 000 by the same time.
Many critics predict that that the revered art metal quintet will beat Swift out of the coveted number one spot, and Swift's fans – affectionately known as "Swifties"– have rallied on social media.
One Swiftie tweeted: "Granpas discovered itunes i guess [sic]".
Whilst a Tool fan chimed in on Twitter: "The best thing about being a Tool fan is ruining the lives of all Taylor Swift Fans right now."