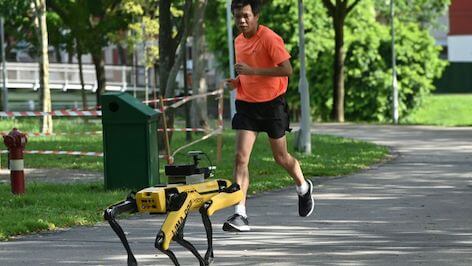 Singapore: Robot Dog Barks for Social Distancing
Singaporean authorities have come up with a unique method of encouraging park visitors to maintain social distancing: by deploying a robotic "dog".
The four-legged robot, called "SPOT" was designed by Boston Dynamics, the brains behind Atlas, Cheetah, and many other headline-making automatons. It was originally conceived to venture into environments that humans could not.
However, SPOT now spends its time patrolling during off-peak hours – and reminding visitors of social distancing – in Bishan-Ang Mo Kio Park, in the centre of the city.
It plays a pre-recorded message on a loudspeaker, advising people to "please stand at least one metre apart" from each other at all times.
Those who fail to comply could face a hefty fine or even jail time.
SPOT also has a built-in camera and sensors to monitor the number of people in the vicinity, but park management says that it will not track specific individuals, nor collect personal data.
The agile, remote-controlled machine is part of a two-week trial, after which local authorities will decide if the initiative will be replicated for longer hours, and in other green spaces.
Image Credit: Source