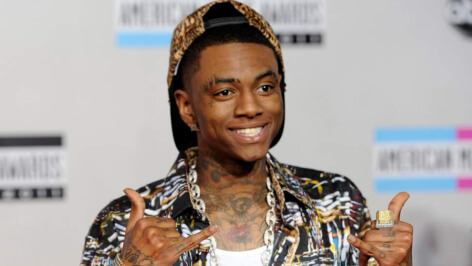 Soulja Boy Accused of Kidnapping, Assaulting Woman
Rapper Soulja Boy has been accused of kidnapping and assaulting a woman over the weekend.
According to the victim – identified as Kayla – the "Crank That" hitmaker allegedly prevented her from leaving his home in Agoura Hills near Los Angeles in the early hours of Saturday morning, 2 February.
Following an argument with Soulja Boy, Kayla attempted to leave the property, only to drive in reverse and clip the curb. This led to a heated confrontation with Soulja Boy's assistant, before the rapper himself began punching and kicking Kayla before moving her to his garage.
There, he reportedly tied Kayla to a chair with an extension cord, where she was held for six hours. After her release, she contacted the police, and was treated at a hospital for rib-related injuries and a concussion.
Soulja Boy's manager denies the allegations, although he has not been in touch with his client who "always calls me if there's any problem, and he did not call".
An investigation into the incident is currently underway.
Image: Soulja Boy. [online image] (2019) sourced on 05 February 2019 from: https://static.independent.co.uk/s3fs-public/thumbnails/image/2019/02/04/15/soulja-boy.jpg?w968