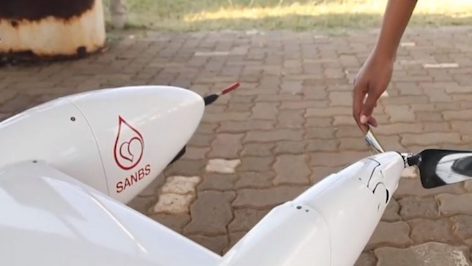 South Africa: Drones, a Bloody Good Idea
That buzzing sound you hear might not be a mosquito coming for your blood, but rather a drone coming to save you with several pints of the stuff. At least, that's what the South African National Blood Service (SANBS) and Western Cape Blood Service (WCBS) aim to achieve by using drone technology in saving lives.
A TRON Unmanned Aerial Vehicle (UAV) took off from Northern Eastern Radio Flyers in Sandton, Johannesburg, yesterday, 3 June. It landed safely from its test-flight with its cargo of fake blood just moments later.
The SANBS and WCBS have adopted the technology as a new means of delivering emergency blood to hospitals and rural parts of South Africa, for as little as R10.
The drones are capable of carrying 4 units – nearly 2.5 litres, or 2 kilograms – of blood, are cost-effective and can travel up to 180 km/hour.
Similar initiatives have previously been launched in other African countries such as Rwanda's "Zipline", where several drone distribution centres deliver critical medical supplies to remote areas.
Image Credit: Source