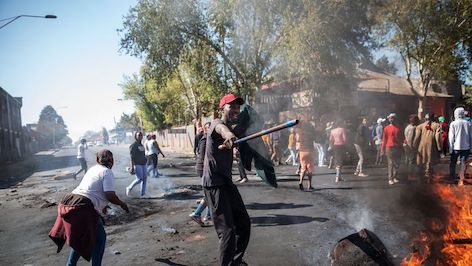 South Africa Rallies Against Xenophobic and Gender-Based Violence
The eyes of the world are on South Africa again, but this time it is due to the recent spikes in violence against its women, children and foreign nationals.
Several protests were held before the South African Parliament in Cape Town yesterday, 4 September.
The demonstrators demanded the government do more to quell gender-based violence, following several recent and savage rapes and murders of young South African women that have caused a national outcry.
More protests have been planned for today, under the social media hashtag "AmINext" .
As part of the national backlash to, violence against foregin nationals and the looting of foreign-owned stores in Johannesburg and Pretoria has stretched the South African police, resulting in more than 100 people being arrested.
Some South African-owned businesses in Nigeria have been targeted in retaliation for the xenophobia.
Several public icons, such as Nigerian singers as well as Zambia's football team, have declared a boycott of South Africa in response to the attacks.
Many have condemned the xenophobic violence, and social media has lit up with many adding their voices to the hashtag "SayNoToXenophobia".
President Cyril Ramaphosa is expected to address the gathering in Cape Town today at 2pm (CAT).
Image Credit: Source