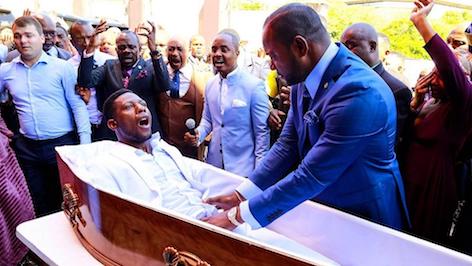 South African Pastor Explains Resurrection 'Miracle'
The video of the Alleluia Ministries International leader, Alph Lukau, performing a resurrection miracle has gone viral across the internet, attracting ridicule on social media and an investigation from South African authorities.
The video shows the lifeless body of a man – which was to be repatriated to Zimbabwe – lying in a coffin. Lukau lays his hands upon the body, commanding it to 'rise up' and miraculously the man sits up.
Lukau has now explained the miracle saying, upon being called to pray, he noticed the person in the coffin was breathing but unresponsive.
He added: "I asked his name, [the mourners] gave me a long name, I called out [Elliot] and he looked at me and I prayed for him and God gave him the grace that he may be strong, and he stood and we pulled him out of the coffin.[sic]"
A few number of fraud cases have been opened, one of which by Pastor Mboro of incredible Happenings Ministries, South Africa.
Image Credit: Source