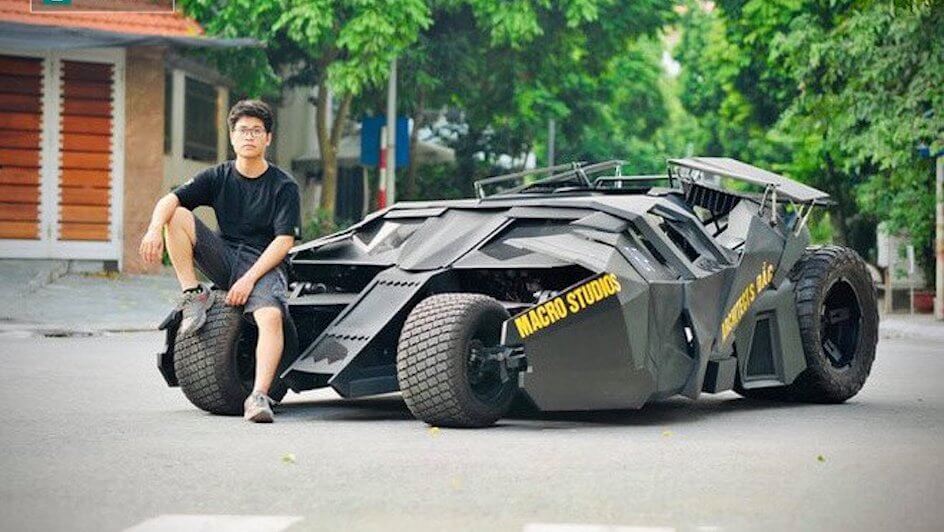 Student Constructs Own Batmobile to Cruise Campus
Ever had a wild daydream of being Batman? One dedicated fan from Hanoi, Vietnam, took it one step further and built his own Batmobile.
Nguyen Dac Chung, an architecture student, spent 10 months – and over $20 000 – constructing the Caped Crusader's vehicle as seen in Christopher Nolan's "Dark Knight" film trilogy.
The 23-year-old took on the project of recreating the iconic "tumbler" after he watched the film series; first designing it in 3D, before building it with parts shipped in from the USA and South Korea, he even installed the control systems, brakes and lighting himself.
The tank-like set of wheels is life-size and fully-functional, and is 3.6 metres long, 2.6 metres wide, and stands 1.5 metres high. It can achieve a maximum speed of 100 kilometres per hour, and comfortably seats two superheroes.
For obvious safety reasons, Nguyen didn't use a jet engine like the original. The car was a labour of love throughout its construction – it still requires adjustments to the interior, lighting and other areas.
Nguyen admitted that he thought of giving up several times, but then remembered the reason why he started: falling in love with the car when he first saw it.
He said: "I am really happy to see my brainchild … I am proud of it because of the difficulties I overcame."
Image Credit: Source