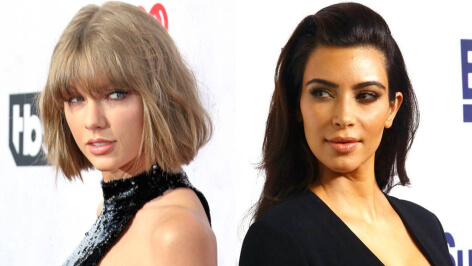 Taylor Swift Calls Out "Bully" Kim Kardashian
Taylor Swift may have reignited her 2016 feud with Kim Kardashian after branding the reality star as a "bully".
Their feud began after Kardashian accused Swift of lying about not wanting to be mentioned in the lyrics of her husband Kanye West's song, "Famous".
In a personal essay that she wrote for ELLE Magazine, the "Look What You Made Me Do" hitmaker revisited her feud with Kardashian – without directly addressing her by name – while speaking about her experience with being bullied.
Swift wrote: "I've come to see that bullies want to be feared and taken seriously. A few years ago, someone started an online hate campaign by calling me a snake on the internet. The fact that so many people jumped on board with it led me to feeling lower than I've ever felt in my life."
She added: "It would be nice if we could get an apology from people who bully us, but maybe all I'll ever get is the satisfaction of knowing I could survive it, and thrive in spite of it."
Image Credit: Source