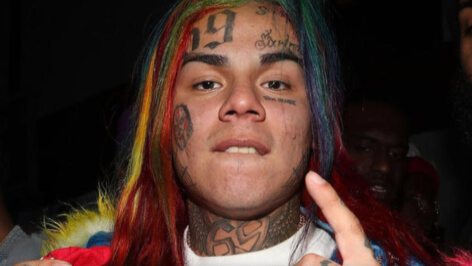 Tekashi 6ix9ine's House Raided by FBI
Rapper Tekashi 6ix9ine's house was reportedly raided by the FBI last Friday.
Assisted by the New York Police Department, federal agents searched the Brooklyn-based property and reportedly found a firearm. It is unclear at this stage why the raid was carried out or to whom the alleged firearm belongs.
The 22-year-old rapper – whose real name is Daniel Hernandez – was on tour in Russia at the time of the raid.
According to media outlets, Tekashi 6ix9ine was in the process of moving out of the property and that there had been multiple people, including cleaners, inside the property over the past few weeks.
If the alleged firearm does belong to Tekashi 6ix9ine, he could be charged with unlawful possession of a weapon.
The "Keke" rapper is no stranger to falling on the wrong side of the law – he is due to appear at a legal hearing tomorrow, 2 October, in connection with a sexual assault charge.
If found guilty, Tekashi 6six9ine could be jailed for one to three years.
Image: Tekashi 6ix9ine [online image] (2018) sourced on 1 October 2018 from
https://www.miami.com/wp-content/uploads/sites/2/2018/08/tek.png