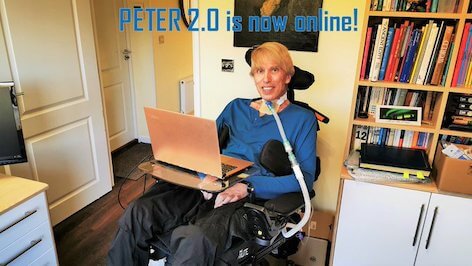 Terminally-Ill Scientist Becomes World's First "Full Cyborg"
When Dr Peter Bowman Scott-Morgan was diagnosed with Motor Neurone Disease (MND) in 2017, he was given two years to live. Instead of accepting the inevitable, he dared to imagine the impossible to beat the ailment: become the world's first full cyborg.
The 61-year-old British roboticist – who has endured the muscle-wasting disease for years – decided to push many boundaries, and underwent several procedures in order to become "Peter 2.0".
Scott-Morgan shared the news via Twitter on 9 October this year, mentioning his "transition to Full Cyborg[sic]" in the month he was told he would be dead.
The procedures would include the insertion of several tubes to facilitate feeding, breathing and bowel movements, which would all be incorporated into the mechanics of his electric wheelchair.
He excitedly added: "I'm not dying, I'm transforming! Oh, how I LOVE Science!!! [sic]"
On 11 November, he tweeted again, happily announcing his return from 24 days in Intensive Care.
He cheerfully quipped: "My mini-ventilator keeping me breathing is a lot quieter than Darth Vader's. All speech is synthetic but at last sounds like me again. Long research road ahead but in great spirits."
A documentary detailing his transitional experience is expected to be released in early 2020.
Image Credit: Source