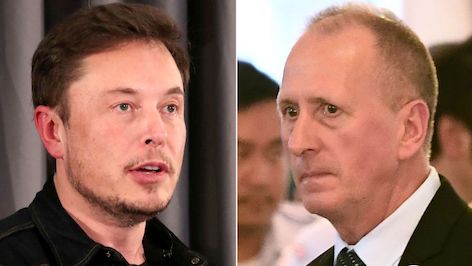 Thai Cave Rescuer: Elon Musk is a Bully
Elon Musk, the founder of automotive company Tesla, is being sued by Vernon Unsworth, about whom he made defamatory comments.
The British diver – who assisted in rescuing a youth soccer team trapped in Thailand's flooded Tham Luang cave in July 2018 – has filed court documents in a defamation case against the 48-year-old multi-billionaire.
The papers claim that Unsworth's name will allegedly be associated with "the asterisk of paedophilia", after Musk called him "pedo guy" in a tweet.
Unsworth stated that Musk's suggestion of using a tiny submarine to rescue the children was flimsy and was just a move to gain attention, which the case claims left the Tesla founder insulted and resulted in Musk throwing the aforementioned accusations at him.
The papers further claim: "Like the bully that he is, Musk chose to lash out publicly at the criticism only by falsely attacking Unsworth, a relatively unknown individual, and publicly challenging him to sue for libel."
Unsworth is seeking $75 000 in compensation for the accusations, and another unspecified amount in punitive damages.
Image Credit: Source