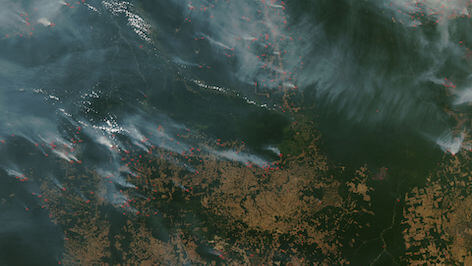 The Amazon Forest Burns Whilst President Bolsonaro Fiddles
The Amazon forest is the largest rainforest on the planet, and it has seen an unprecedented increase in fires this year, according to new data from the National Institute for Space Research (INPE).
The INPE claims that its satellite data shows a general increase of 83% between January and August – with a record number of 72 843 fires so far, since records began in 2013. The majority – approximately 40 000 – having happened in 2018.
Since Thursday, 15 August, the Amazon basin area has seen 9 507 new forest fires.
The thick smoke of these fires combined with strong winds have blocked out the sun, and made an artificial night in the city of Sao Paulo, Brazil, on Monday, 19 August.
Wildfires are a natural occurrence during the dry season in Brazil, but illegal logging and deforestation by farmers for cattle ranching has resulted in the man-made fires.
The forest fire reports come at a time when Brazilian president Jair Bolsonaro is under fire for his environmental policies, as he is a fervent supporter of development.