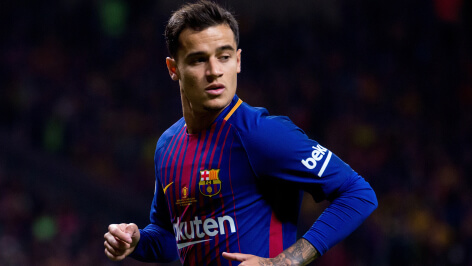 Things You Didn't Know about Coutinho
Back in 2013 when Brazilian dynamo Philippe Coutinho burst onto the Liverpool scene, little was known of the highly sought-after midfielder. Four years later, the 24-year-old has proven himself as one of the division's hottest talents.
Here are a few facts about Philippe Coutinho.
#1 He's All about His Family
Coutinho's name isn't plastered across the headlines for engaging in off-field antics, as family is very important to him. When he was 20 years old he wed his wife, Aine, and they are still happily married. In 2016, the pair celebrated the birth of their first child. He says, "my family is the foundation of everything in my life".
#2 He Has Thrived under Younger Managers
Jürgen Klopp has undoubtedly injected Philippe Coutinho with more enthusiasm and energy, which many wouldn't have deemed possible. He was trained by a 37-year-old Stramaccioni during his time at the San Siro; a 40-year-old Pochettino during his loan spell with Espanyol; and a 40-year-old Rogers when he initially joined Liverpool. Of course it is coincidental, but clearly it has done the 24-year-old the world of good.
#3 His Inspiration Is Neymar
It is believed that Philippe's biggest inspiration is Barcelona frontman Neymar. In an interview with FourFourTwo, he even suggested that he had based his entire game around Neymar. "He's our main idol in Brazilian football and someone young children look up to".
#4 He Peaked Early
Coutinho showed promise at a very young age. While playing for his home nation with Vasco da Gama, he captured the attention of some of Europe's biggest clubs. He was snapped up for €4 million by Inter Milan at the age of 16.
#5 It All Began with Futsal
Coutinho watched his brothers playing on a concrete football pitch with their friends, before taking to the pitch himself from as young as six-years-old. He became obsessed with 'Futsal' – a version of the sport played on a smaller pitch, with smaller teams and a heavier ball. This meant that Coutinho began developing brilliant ball control and balance from a very young age.