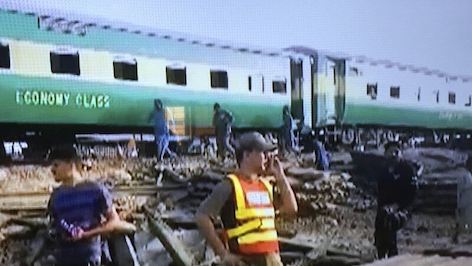 Train Collision in Pakistan Kills 10, Injures 64
Two trains collided in southern Pakistan on Thursday morning, 11 July, resulting in at least ten fatalities, and injuring over 60 others.
According to reports, a passenger train rammed into a stationary freight train at Walhar Railway Station in Rahim Yar Khan, situated in the eastern Punjab province.
Senior government official, Jamil Ahmed, claims that nearby hospitals have declared an emergency, and are preparing to receive casualties from the accident; several of the injured passengers were stated to be in critical condition.
Local sources claim that at least 64 people were injured.
Pakistani Prime Minister, Imran Khan, has stated that he was saddened by the news, and has requested that swift medical care be provided to the victims. He also demanded that urgent attention be given to "decades of neglected railway infrastructure".
Train accidents in Pakistan are a commonplace occurrence due to poorly-maintained railway infrastructure, and lack of action from the relevant authorities.
Image Credit: Source