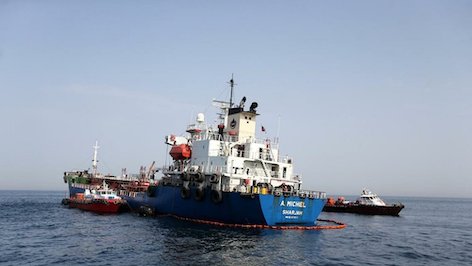 UAE Tanker Attacks Blamed on 'State Actor'
The United Arab Emirates has announced to the UN Security Council its preliminary findings of an investigation into attacks on four oil tankers off its coast – that the perpetrators were likely coordinated by a "state actor", but did not specifically lay blame.
The report – compiled by the UAE, Saudi Arabia and Norway – claims that on 12 May the four commercial ships were attacked by a force that had the traits of a "sophisticated and co-ordinated operation". The incident took place within UAE territorial waters, east of Fujairah.
No casualties were reported, however two UAE ships suffered "significant" damage.
The three countries did not specify who was responsible in their report, but America claim that the culprit is Iran as tensions between Tehran and Washington have recently become heightened.
Abdallah Y Al-Mouallimi, Saudi ambassador to the UN, said: "We believe the responsibility for this action lies on the shoulders of Iran. We have no hesitation in making this statement."