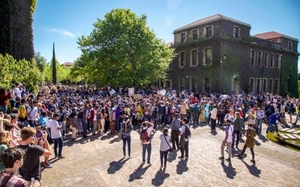 UCT SRC: 'Blended learning' is for the rich
The University of Cape Town's Student Representative Council has criticised the institution's 'blended learning' programme, calling it "an academic project for the wealthy".
The project involves learning content being provided via the internet, in light of the university's campuses being closed.
The SRC points out that many students rely on campus infrastructure to access the internet, and therefore are unable to partake in the blended learning from home.
"The 'Blended Learning' approach comes at a time when universities across the country are implementing online learning despite the social context the sector faces," it says. "Furthermore, this strategy still leaves students, particularly those from poor and working class backgrounds, worse-off."
The SRC claims that students are in fact "expected" to complete assignments thorugh the system, despite not having access to university facilities.
"We cannot allow for an academic project that continuously protects and privileges the wealthy," it emphasises. "Learning continues via Macbooks, wifi hotspots in expensive coffee shops and executive boardrooms in top law firms when most students cannot access basic university resources."
Perhaps in response to such criticism, the University announced on Wednesday that it has approached Telkom, MTN, and Cell C, asking the network providers to provide access to UCT websites totally free-of-charge. "This would make it easier for students to access their course materials during the disruptions," it says.
In the meantime, many students are being forced to go to extreme lengths to continue their studies.
"If we are truly committed to addressing the commodification and reservation of higher education for the wealthy few, we cannot condone interim solutions that continue to ignore the masses," concludes the SRC.