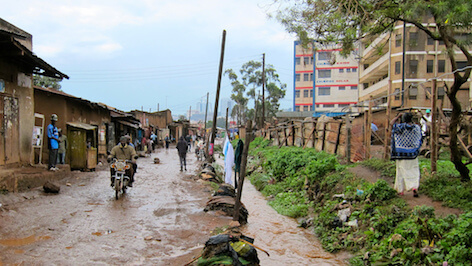 Uganda: At Least 34 People Killed in Landslide
The Ugandan Red Cross has reported that a landslide, caused by heavy downpours on Thursday afternoon in eastern Uganda, has killed at least 34 people.
Commissioner for disaster preparedness and management, Martin Owor, said: "Most of the people were caught at the trading centre. The landslide pushed huge boulders into the river, which burst its banks and the water swept away the people."
In a statement posted on Twitter, Ugandan President Yoweri Museveni said: "The government has dispatched rescue teams to the affected areas. I urge residents to cooperate with authorities to mitigate possible further danger."
Rescue teams are currently searching the area for survivors and are expected to continue searching over the weekend.
The Bududa district, situated on the border between Uganda and Kenya, is prone to heavy rainfalls which leads to landslides occurring frequently.
In March 2010, heavy rain caused landslides in the area. At least 100 people were killed and 85 homes were reportedly destroyed.