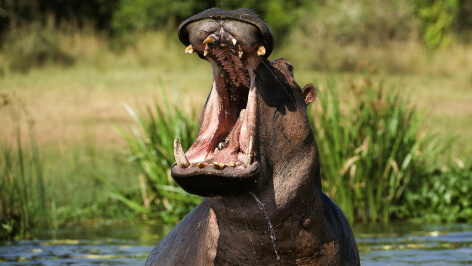 US Tourist Attacked by Hippo in Zimbabwe
An American tourist has sustained serious injuries after she was attacked by a hippopotamus in western Zimbabwe.
According to Tinashe Farawo, spokesperson for Zimbabwe National Parks and Wildlife Management Authority, 37-year-old Christine Yaldor was attacked on Saturday morning by a hippo while she was canoeing above Victoria Falls with her husband.
An eyewitness told a local media publication: "[The Yaldors] came too close to the hippo, and it panicked and attacked their boat."
Farawo later tweeted on Sunday evening that Yaldor was airlifted to a South African hospital, where she is receiving treatment for injuries to her right leg.
The accident comes five months after two local women from a village in northern Binga drowned in the Zambezi River after a hippo capsized their canoe while they were out fishing.
In April this year, a woman from Bulawayo lost her arm in a crocodile attack while canoeing with her fiance above Victoria Falls, days before their wedding.