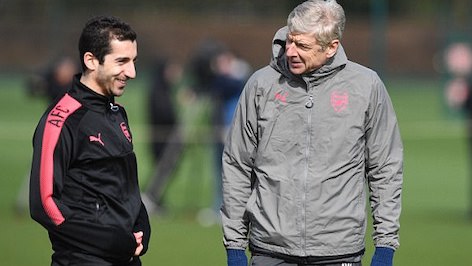 Wenger: Mkhitaryan's UEL Fiasco 'Should Not Happen in Football'
Former Arsenal manager, Arsene Wenger, has expressed concern and outrage that Henrikh Mkhitaryan won't be able to play in the Europa League final against Chelsea in Baku, Azerbaijan, due to fear for his safety.
The Gunners issued a statement expressing their disappointment in UEFA, particularly for handing the final to Baku, as the club has been forced to drop Mkhitaryan from their UEL final starting lineup.
Mkhitaryan is an Armenian and his ethnic group is usually not permitted to travel to Azerbaijan due to conflicts between the two countries.
Although the midfielder would have been granted a visa, and additional security, both the team and the player's family fear that his safety cannot be guaranteed on the pitch.
Wenger, who originally signed him to Arsenal, said: "That's something that should not happen in football, in the modern world."
He added: "Politically, you cannot play a football game."
Meanwhile, Mkhitaryan took to Twitter to express his frustration, he tweeted that having to stay behind and miss the final "hurt[s] a lot".
Image Credit: Source