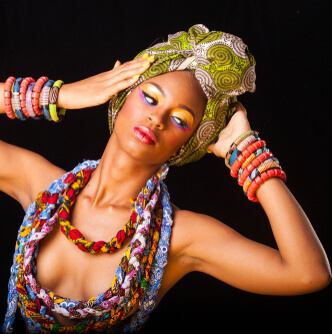 What's Trending? African Prints
Fashion trends from the 60's and 70's are taking centre stage, with African prints leading the show.
African patterns were previously worn only during traditional ceremonies, but have now become included in everyday outfits, and have become popular pieces for making a statement.
They influence the fashion world – as can now be seen on the international runways and displayed in stores. Even international celebrities such as Beyonce, Rihanna and Lupita rock Ankara fabrics – fabric printed with African designs. Fashionistas are simply crazy about African prints.
Here are a few fabulous ways to wear them:
Headwraps
Headwraps have rich history in African culture and there is a lot of symbolism in wearing one.
How to wear it: Place the headwrap on your head with the two ends facing the front of your head, then tie the ends and roll them into a big bow.
Crop Tops and Denims
Another modern way of wearing Ankara fashion is to combine a print crop top with denims.
Ankara crop tops are one of the hottest things in the fashion world right now.
Jackets
African prints blazers are currently among the most trending fashion pieces for classic men and corporate ladies at the moment. Pair them with any formal pants or skirts.
With bomber jackets in vogue right now, you can create a modern, casual look by wearing African print bomber jackets.