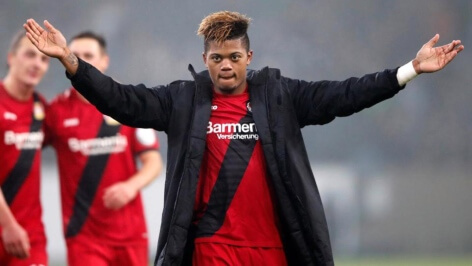 Why Leon Bailey Snubbed Premier League Clubs' Offers
Bayer Leverkusen winger, Leon Bailey, claims that he turned down offers from top English Premier League clubs before signing for the the German club.
The 21-year-old Jamaican – who moved from Genk to Leverkusen in January last year for a reported €20 million – is considered to be one of the hottest talentsin Europe, having scored nine goals and assisted six more in 30 Bundesliga appearances.
Speaking to a media publication, Bailey revealed that a host of Premier League clubs were interested in signing him.
He said: "Chelsea have been interested in me … but as a young player, you want to start on a normal level and not just go there because of the name of the club."
Bailey also snubbed the likes of Manchester United and Liverpool in favour of moving to Leverkusen.
He explained: "Manchester United, [Manchester] City, Chelsea, Liverpool – a lot of clubs were interested. But the most important thing as a pro is taking things a step at a time and not rushing to the top too quickly."
Image: Arsenal are leading the chase for Bayer Leverkusen winger Leon Bailey. [online image] (2018) sourced on 6 November 2018 from: https://www.thesun.co.uk/wp-content/uploads/2017/12/nintchdbpict000374186687.jpg?strip=all&w=960