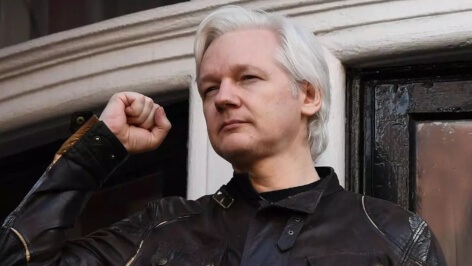 WikiLeaks' Julian Assange Faces Embassy Expulsion
WikiLeaks founder, Julian Assange, is apparently set to be expelled "within hours to days" from the Ecuadorian embassy in which he has been living for seven years.
In June 2012, Assange sought refuge at the embassy – located in London, England – after a British judge ruled that the Australian national should be extradited to Sweden to face sexual assault allegations.
Although Sweden dropped the case in 2017, Assange remained at the embassy to avoid being extradited to the United States on charges relating to releasing sensitive government files.
Now, the infamous website has claimed that its founder is supposedly being released from the embassy after violating the terms of his asylum.
Tweeting from its official account on Thursday, 4 April, WikiLeaks said: "A high level source within the Ecuadorian state has told [WikiLeaks] that Julian Assange will be expelled within 'hours to days' using the #INAPapers offshore scandal as a pretext – and that it already has an agreement with the UK for his arrest."
The INA Papers are documents which have implicated Ecuardorian president, Lenin Moreno, in a corruption scandal.
Ecuador's Foreign Ministry has refused to comment on these claims.
Image Credit: Source