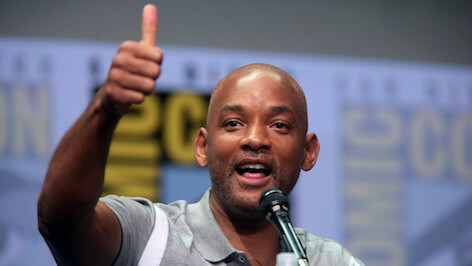 Will Smith Celebrates 50th with a Grand Leap
Actor Will Smith celebrated his 50th birthday yesterday afternoon by bungee jumping out of a helicopter over the Grand Canyon, and shared the moment via video stream on YouTube.
The rapper's whole family was present for the stunt, as well as "Fresh Prince of Bel-Air" co-star, Alfonso Ribeiro, who played Carlton Banks on the '90s sitcom.
The idea all started with a dare from "Yes Theory", a YouTube channel that challenges participants to seek out discomfort in their everyday lives to find fulfilment and personal growth.
The 50-year-old had been documenting the days and months leading up to the leap and on the special day he posted a family photo with the caption: "My Squad holding me down for my big 5-0."
Moments before the jump, the "Men in Black" star said: "I've had a whole lifetime of feeling squashed and squelched and controlled by fear. There's nothing worse than walking around scared."
Smith summed up his final thoughts afterwards: "Life is hard. You might get hurt. Your heart might get broken. But you still gotta commit…Don't hesitate-GO."