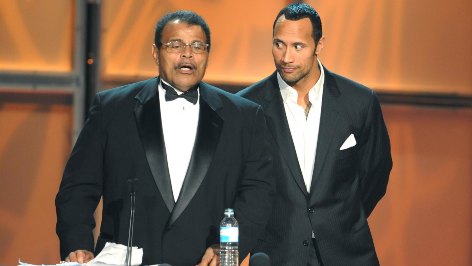 WWE Legend, Rocky Johnson, Dies
Famed wrestling icon, Rocky "Soul Man" Johnson, has died at the age of 75.
According to a tweet by the Cauliflower Alley Club — a non-profit, pro-wrestling organisation – the former professional wrestler passed away on Wednesday, 15 January. His manager later confirmed his death, but did not reveal the cause.
Born Wayde Douglas Bowles, he began his wrestling career in the 1960s with the National Wrestling Alliance.
After signing with World Wrestling Entertainment (WWE) in 1982, Johnson went on to form a tag team called "Soul Patrol" with fellow wrestler, Tony Atlas.
A year later, Soul Patrol became the first African-American tag team in WWE history to win the World Tag Team Championship titles. They were later inducted into WWE's Hall of Fame in 2008.
After retiring in 1991, Johnson dedicated his time to training his son, Dwayne "The Rock" Johnson, who went on to become a legendary wrestler in his own right before embarking on a successful acting career.
Johnson is survived by his three children and his third wife, Sheila.
Image Credit: Source