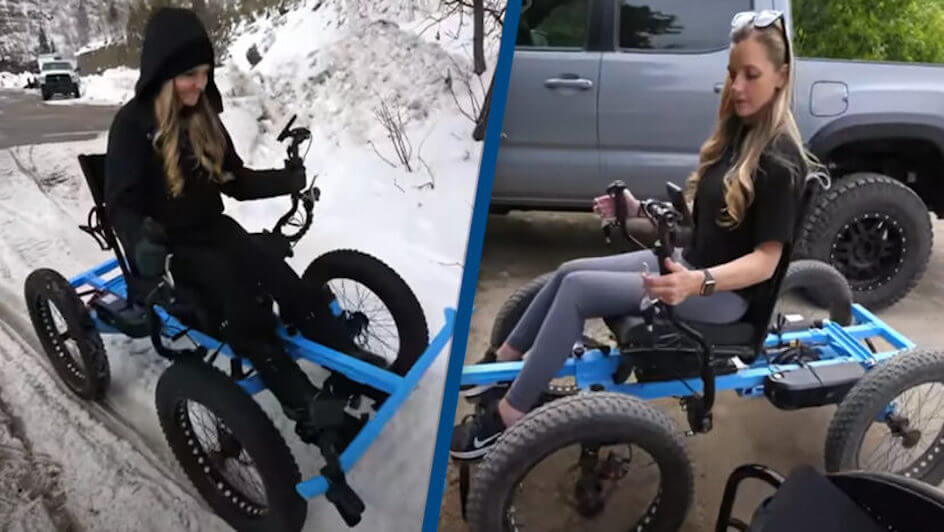 YouTuber Builds Rugged "Wheelchair" for Couples Adventures
Known for making videos on his YouTube channel, "JerryRigEverything", Zack Nelson is all about taking apart cell phones and other technological hobbies. Now, he recently built a special "wheelchair" for his wife, and it's a marvel of technology.
Nelson's partner, Cambry Kaylor, suffered an equestrian accident in 2005 which left her paralysed from the waist down, but he remained by her side, helping to fulfill her adventuring dreams.
When the couple got married in 2018, the 32-year-old YouTuber had the idea of putting two electric bikes together and attached a seat in the middle. The vehicle was comfortable and pragmatic, leading the two to create the The Rig, also known as "Not-A-Wheelchair".
The Rig runs silently as it is fully electrical, has a top speed of 20 kilometres per hour, and can travel up to 32 kilometres on a single charge; with an extra battery, this can double this distance, depending on the terrain.
The device also has all the durability and all-terrain adaptability of off-road vehicles with four wheels – although the largest initial obstacle was the price -tag, according to Nelson.
However, after some tinkering, the duo managed to create a design that is now being mass produced for wheelchair-users.
Nelson created an Instagram account earlier this year for the invention under the name "NotAWheelChair", with the motivational tagline: "Don't confuse a speed bump for a stop sign."
Image Credit: Source