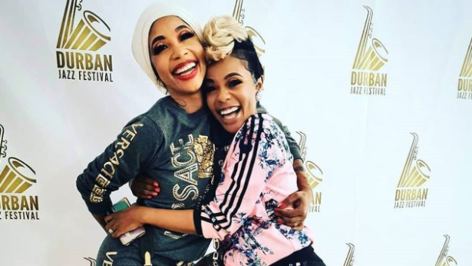 Zandie Khumalo to "Divorce" Her Sister
In a shocking move, Zandie Khumalo has revealed her intention to "divorce" from her sister, popular songstress Kelly Khumalo.
Posting a lengthy Twitter statement on Thursday, 6 February, Zandie – also a musical artist – told her followers that she is distancing herself from the "Asine" hitmaker.
She wrote: "I announce my divorce … I am separating from a person I have known for all my life and have shared laughs, pain, excitement and disappointment with all my life with – my sister."
Zandie made several allegations against Kelly – this includes being abusive towards her, and sabotaging Zandie's own musical career.
Her statement comes soon after Kelly released a statement in which she distanced herself from an alleged embezzlement scam that supposedly involved Zandie's husband, Mhlo Gumede.
In response to her sister's scathing statement, a seemingly heartbroken Kelly wrote on Instagram: "I accept defeat, She wins in fact they both win [sic]. I wish them nothing but the best. This hurts more than I thought it would, but it is well."
Image Credit: Source