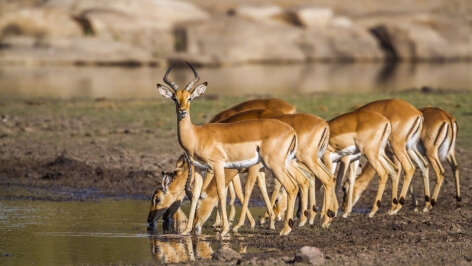 Zimbabwe: Anthrax Outbreak Leaves 100 Impala Dead
A deadly outbreak of anthrax has killed at least 100 impala at a national park in Zimbabwe.
Tinashe Farawo, spokesperson for Zimbabwe National Parks and Wildlife Management Authority, confirmed that the outbreak occurred in Mana Pools National Park in Northern Zimbabwe. He said that vets have been requested to bring the disease under control.
Farawo explained: "We've managed to contain the disease. Our vet doctors are down there: they are working flat out to ensure that we clear the area."
He added: "We are trying to avoid the spread of the disease to other species. At the moment we are dealing with impalas only."
Per medical research, anthrax is an infectious bacterial disease caused by the spore-forming bacteria called bacillus anthracis.
These spores remain dormant in the soil until they are ingested by wild animals or livestock. When triggered, anthrax can cause loss of appetite, shortness of breath and sudden death among other fatal effects.