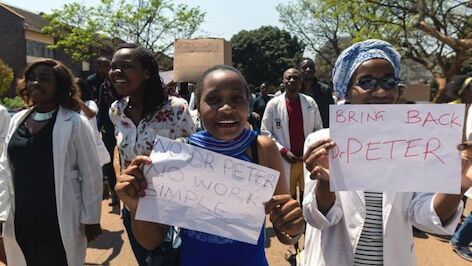 Zimbabwe: Doctor Found Alive After Alleged Abduction
Activists in Zimbabwe breathed a deep sigh of relief yesterday after a prominent missing doctor was found disoriented but alive.
Doctor Peter Magombeyi, acting president of the Zimbabwe Hospital Doctors Association, turned up yesterday morning, 19 September, near Inkomo Army Barracks, around 33km north of Harare.
He had been reported missing since last Saturday, 14 September, after he was seized by security forces for calling for a pay strike as the country's health sector faces dire circumstances.
Many health care professionals downed tools shortly after the news broke, and claimed they would not return to work until Doctor Magombeyi was found. They held protests whilst wearing their white lab coats and chanting "no Peter, no work" and "bring back Peter".
Over 50 critics of president Emmerson Mnangagwa's administration have been kidnapped this year, most beaten and then released with a warning to not engage in anti-government activities.
The economic crisis in Zimbabwe has shrunk doctors' salaries to the point that one month's salary is just enough to fill a car with petrol, where scarce reserves are still available.
Image Credit: Source