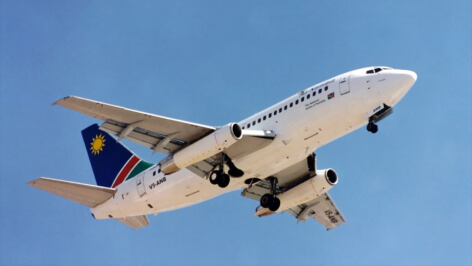 Zimbabwean Man Sues Air Namibia for $1 Million
A Zimbabwean man has filed a $1 million lawsuit against Air Namibia, after airline officials allegedly barred him and his family from travelling to Turkey last year.
According to court documents, Chenjerai Mawumba, his wife and their three children were apparently barred by airport officials from travelling to Turkey via Windhoek and Frankfurt in February 2017.
Mawumba and his family were then detained for two days at Windhoek's Hosea Kutako International Airport, before they were deported back to Zimbabwe.
He later found out that Air Namibia had "a policy of denying Zimbabweans and other nationalities access to Europe in a bid to save itself from paying fines imposed by German authorities for the conveyance of illegal passengers".
Although the airline was aware of this policy, it still accepted Mawumba's flight payments.
The pending court action left 38 passengers stranded last Friday in Harare, after the Air Namibia aircraft they were scheduled to travel in was impounded by Zimbabwean officials.
The aircraft was later released, and the passengers were flown to Namibia on Saturday morning.