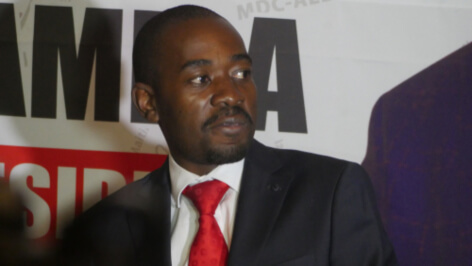 Zimbabwean Opposition Leader Faces Arrest if "Inaugurated"
Nelson Chamisa, the leader of the Movement for Democratic Change (MDC) Alliance, faces arrest if he proceeds to illegally swear himself in as president this week.
In the July elections that were rife with allegations of vote-rigging, Chamisa lost the presidential vote to ZANU-PF's Emmerson Mnangagwa by 44.3% to 50.7%.
In response, Chamisa declared that he will be "inaugurated by the people" at the party's 19th anniversary celebrations this Saturday, 15 September, in Harare.
However, Ziyambi Ziyambi – the Justice, Legal and Parliamentary Affairs minister – said that law enforcement agents will not hesitate to arrest Chamisa if he takes the presidential oath.
He explained: "The Chief Justice is the one who is mandated to [inaugurate a president]. It's a serious breach of the law. We are going to arrest [Chamisa] if he does that."
Ziyambi added: "It is unfortunate that [Chamisa] can't accept reality and move on as an opposition leader … we can't allow people to breach the law and cause the suffering of innocent Zimbabweans."