entertainment
Celeb Twitter Round-Up: DJ Zinhle Denounces "Righteous" Tweeps
We all know that Twitter/X can be a hotspot for bullying, abuse, trolling, and blowing things out of proportion to the point that bytes of fake news are taken as gospel truths. However, that doesn't mean that it SHOULD be a hotspot for such nonsense.
Nevertheless, the social media platform is a melting pot of toxicity – and not even our favourite celebs are immune from it, whether it be receiving it or dishing it out.
Take DJ Zinhle, for example: for the past few months, tweeps have been taking shots at her over the most petty things, such as how she seems to (publicly) favour showing her love and affection for her own kids instead of her step-daughter.
On Monday, 16 October, the "My Name Is" hitmaker shared her thoughts about these self-righteous tweeps, specifically those who use Twitter/X to spread untruths: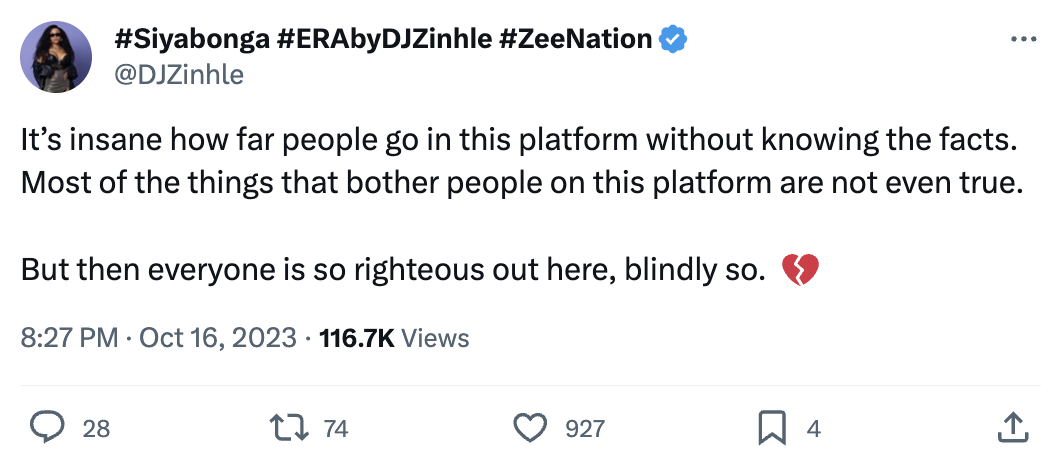 Her fans offered their support while also chastising the petty haters out there:










Then you get tweeps like @Mbalieh_D who tweet stuff like this:

In one sense, distancing yourself from social media or deleting your accounts are good ways to keep your mental health in check. However, this doesn't erase the toxicity problem that Twitter – and indeed, social media in general – has on its hands.
@KAT_JKC was less sympathetic to Zinhle's plight, prompting her and others to join in on the heated conversation (and shake their heads at the tweep's views):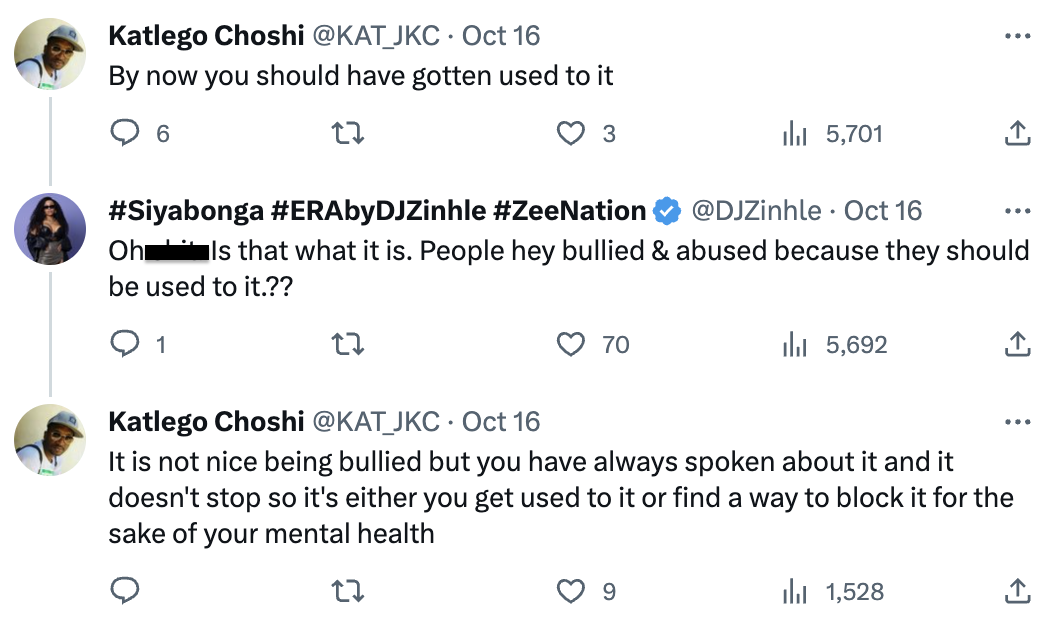 Meanwhile, @BrotherStiv reminded us that even celebs like Zinhle are liable to distort facts or present glamorous facades to suit their narratives:

While this IS a valid opinion, it's still up to the discretion of celebs and plebs alike to share and withhold certain aspects of their lives. After all, it's not like tweeps and other social media users are obligated to share their full stories with anyone, nor are they entitled to demand the same of others. But that's just wading into the whole "privacy versus the public's right to know" debate, and we don't have time for that right now.
Anyway, do you agree with DJ Zinhle? Has Twitter/X gone so far out of control that there's no turning back, or can we keep on hoping for a redemption arc? Let us know!
Image Credit: Source