entertainment
"Everything Everywhere All at Once" Wins Big at SAG Awards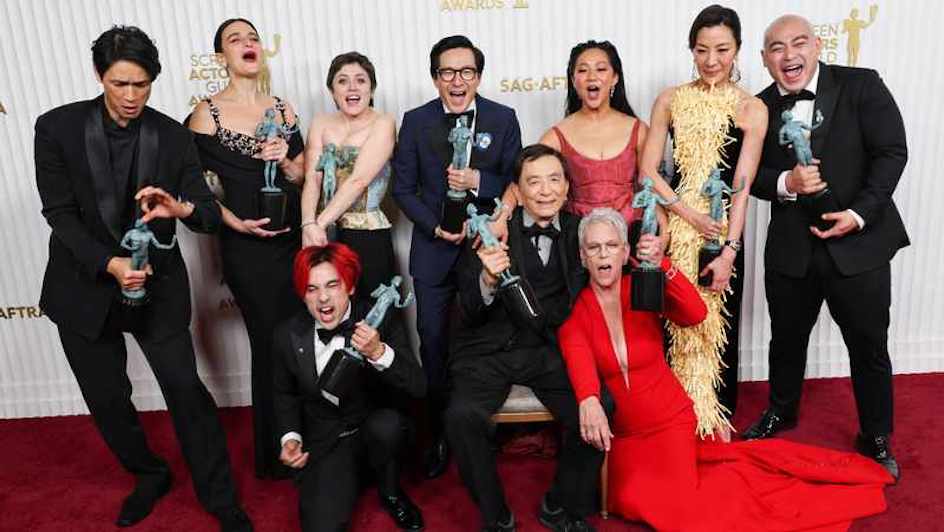 The Screen Actors Guild (SAG) Awards could not get enough of "Everything Everywhere All at Once" as it picked up several awards on Sunday night, 26 February.
The 2022 science fiction comedy flick picked up a record-making four awards out of five nominations at the prestigious ceremony (which is often seen as a strong indicator for the Oscars) that was hosted at the Fairmont Century Plaza in Los Angeles, California.
Michelle Yeoh won Outstanding Performance by a Female Actor in a Leading Role, while her co-stars, Ke Huy Quan and Jamie Lee Curtis each won the male and female actor awards for their supporting roles as Yeoh's husband and an IRS agent, respectively. The movie focuses on a Chinese-American family whose laundromat business gets audited, but comedically explores themes of existentialism and absurdism.
To hammer home the film's talent, the cast won the SAG award for Outstanding Performance by a Cast in a Motion Picture.
Yeoh gave a passionate, expletive-filled acceptance speech before saying: "This is not just for me, it's for every little girl that looks like me.
"We're here because we love what we do, and we'll never stop doing this but thank you for giving me a seat at the table so many of us need this, we want to be seen, we want to be heard," she added, her words dripping with immense gratitude.
Image Credit: Source