lifestyle
Extremely Tasty Naan Bread Pizza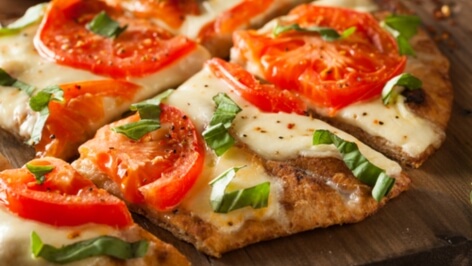 A doughy flatbread used in South Asian cuisine, naan bread also makes for a perfect pizza base. Throw on some mozzarella cheese, olives and juicy tomatoes, and you've got yourself a mouth-watering snack that the old Italian pizzaiolos would approve of!
Ingredients:
1/2 onion chopped
1 tsp tomato puree
1 handful cheddar
1/2 red pepper sliced
1 plain naan bread
1 pinch dried basil, finely chopped
1 handful of mozzarella
5 black or green olives
3-4 baby tomatoes halved
You will also need some oil for frying the onions.
Method:
1. Pre-heat the oven to 180°C.
2. In a frying pan, fry the onions in oil. Once lightly browned, take aside and drain on a kitchen towel.
3. Spread the tomato puree over the naan bread.
4. Sprinkle the fried onions, olives, peppers and tomatoes onto the bread.
5. Grate the mozzarella and cheddar together, and cover the naan.
6. Sprinkle the basil over the cheese to taste.
7. Bake in the oven for 10-15 minutes until the cheese is golden and bubbling.
8. Remove the pizza from the oven, serve and enjoy!
Image Credit: Source