news
Nigerian Mother Honoured for Solar-Powered Crib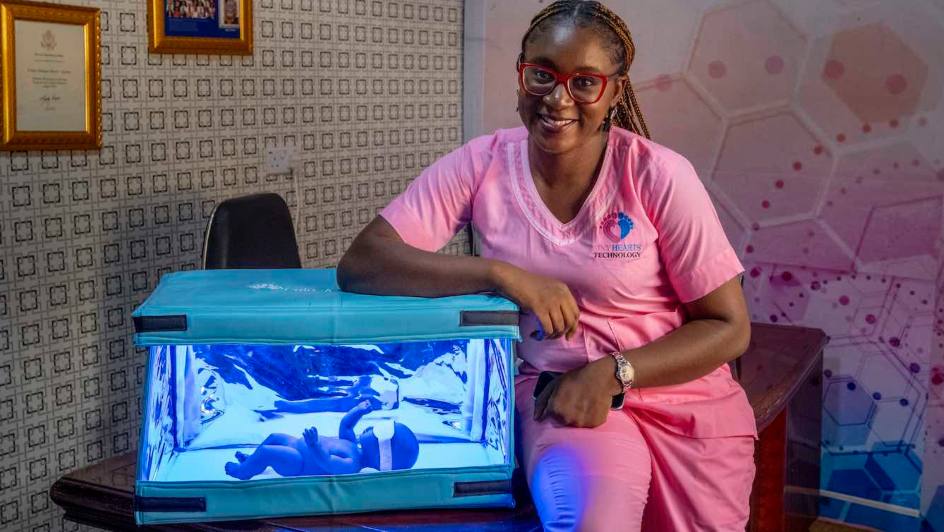 A Nigerian woman has done her country proud after being shortlisted for an engineering award for her clever invention: a solar-powered crib that treats and monitors babies suffering from jaundice.
Virtue Oboro's "Crib A'Glow" was recently shortlisted for the 2022 African Prize for Engineering Innovation at the Royal Academy of Engineering.
Her story begins in 2015 after her newborn son was diagnosed with jaundice, a disease that causes the skin and the whites of the eyes to yellow due to a build-up of bilirubin in the blood. It commonly affects newborns worldwide, and it can lead to hepatitis or tumours if left untreated.
Because the hospital lacked blue-light phototherapy devices to treat Oboro's son, they resorted to a risky yet successful blood transfusion. Nonetheless, the harrowing experience inspired Oboro, along with her husband, to create a similar device.
Thus, the Crib A'Glow was born: it's a foldable, mobile phototherapy crib that runs on either grid or solar power, and uses blue LED lights to actively monitor the level of bilirubin in a baby's body.
Valued at a tenth of the cost of the average phototherapy device used in developed countries, it focuses its lights on the baby's body rather than on the crib.
"Crib A'Glow is an appropriate, affordable and effective solution to a simple but life-threatening problem that more than half of African families will face," says Oboro.
To date, the cribs – supplied through Oboro's company, Tiny Hearts – have been installed in countless hospitals across Nigeria and Ghana, saving the lives of hundreds of thousands of babies.
Image Credit: Source