news
#ThrowbackThursday – 5 August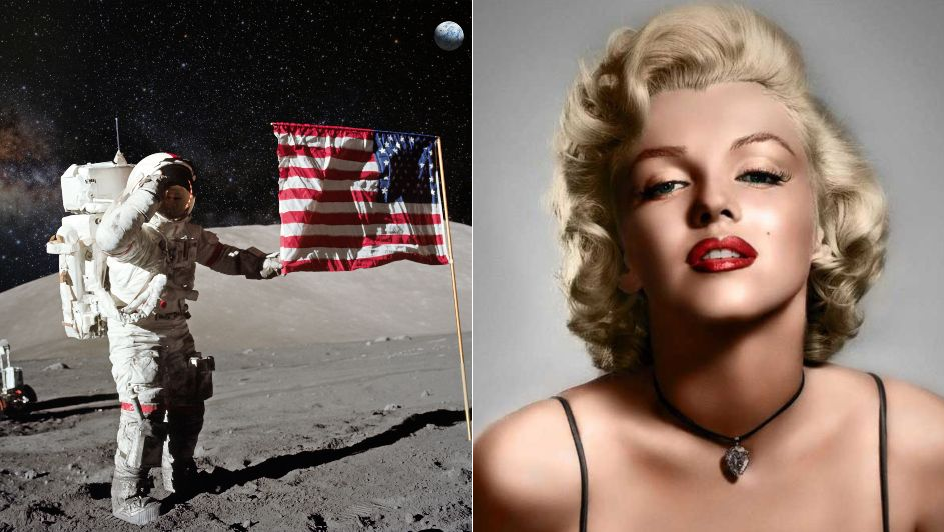 From the birth of a space icon to the death of an acting legend, take a look at these five events that went down in history on 5 August:
1884 – The Beginning of Liberty
Less than a year before the disassembled pieces of the Statue of Liberty arrived at New York City's harbour from France, its hefty cornerstone was laid on Bedloe Island.
The cornerstone – a slab of granite that weighed up to 6 000 kilograms and was hand-selected from the Beattie Quarry in Guilford, Connecticut – was laid for the statue's pedestal. Due to financial shortfalls, however, the pedestal's construction was delayed several times, and it was only completed in April 1886.
Once the pedestal was done, only then were the statue pieces finally reassembled. Six months later, the Statue of Liberty was finally unveiled during a dedication ceremony.
1926 – Houdini's Final Trick
In 1926, world-famous illusionist Harry Houdini carried out the most daring escape trick of his life.
One month before, an Egyptian magician named Rahman Bey set a record for enclosing himself in a metal box and remaining underwater for an hour. Bey then challenged Houdini to replicate (and attempt to beat) the feat, which the competitive Hungarian illusionist accepted.
Before an audience of journalists at the Hotel Sheldon in New York, Houdini enclosed himself in a coffin that weighed 371kg and was submerged in a pool. According to author Massimo Polidoro, Houdini "felt disturbed by the strong heat he felt inside the box", and "had visualised the box breaking in two and thought he was going to drown."
Fortunately, Houdini survived the attempt; he spent 91 minutes underwater, breaking Bey's record by 30 minutes. Unfortunately, death visited him sooner than he thought – two months later, he died from peritonitis as a result of a ruptured appendix.
1930 – Happy Birthday, Neil Armstrong!
Ninety-one years ago, the first man on the moon was born.
Hailing from Wapakoneta, Ohio, Neil Alden Armstrong embarked on an aviation career when he was 19-years-old. From 1955 onwards, he worked as an engineer, test pilot and administrator for the National Advisory Committee for Aeronautics and its successor agency, the National Aeronautics and Space Administration (NASA).
In 1962, Armstrong achieved astronaut status, but his achievement to date came seven years later: alongside Buzz Aldrin and Michael Collins, he partook in NASA's first manned lunar landing mission. When their lunar module landed on the moon, Armstrong became the first man to set foot on its powdery surface, uttering his famous quote: "That's one small step for a man, one giant leap for mankind."
In the aftermath, the Ohioan astronaut became a household name, with many honours and awards under his belt. He retired from NASA in 1971, and thereafter was involved in all aspects of aeronautics, engineering and technological research. Armstrong passed away in 2012 at the age of 82, but even after his death, he continues to be a venerated figure in the aerospace community.
1962 – Gone Too Soon
In the same year that Neil Armstrong became an astronaut, a gruesome discovery was made in the Los Angeles home of famed actress Marilyn Monroe.
Shortly after midnight on 5 August, Monroe's maid, Eunice Murray, noticed that her employer's bedroom light was still on. Finding that the door was locked, Murray called Monroe's psychiatrist, Dr Ralph Greenson – who had been treating the blonde bombshell for depression – and he broke into her bedroom via a window.
There, Dr Greenson discovered the 36-year-old's nude, lifeless body lying face-down on the bed, a telephone in one hand. Empty pill bottles that had contained her anti-depressants lay littered around the room. The police were immediately called in.
When the autopsy was conducted, huge quantities of sedative drugs were found in Monroe's system. As a result, her death was ruled as suicide caused by a self-administered overdose. Although her star had faded too soon, Monroe forever cemented herself as a cultural, fashion and sex icon.
1973 – Teenager Swims into Record Books
In 1973, a 15-year-old Australian schoolboy did the unthinkable: he smashed a world swimming record.
Competing before 300 people at the Australian Championships in Brisbane, young Stephen Holland broke the 1500-metre freestyle world record: he completed the swim in 15 minutes, 37.8 seconds, beating the previous record by 14 seconds.
Not only did this catapult Holland into the headlines, but it also made him qualify for the World Aquatics Championships in Belgrade, Yugoslavia the following month. There, he set a time of 15 minutes, 31.85 seconds, thus breaking the freestyle record twice over – one for 800 metres, the other for 1500 metres.
The victory earned the teen swimmer an ABC Sportsman of the Year award; he also received other prestigious accolades over the course of his brief career – which he ended when was 18 – including the Order of Australia Medal for services to sport of swimming, and an induction into the International Swimming Hall of Fame.
Image Credit: Source