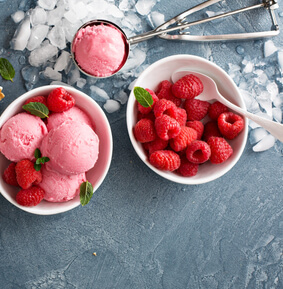 Delicious Homemade Raspberry Ice Cream
Want to make your own delicious ice-cream at home? Look no further! This easy recipe can be whipped up in no time, and doesn't even require eggs, or custard-making.
Ingredients
250 ml cream
1/4 cup icing sugar
1 cup frozen raspberries (thawed and with juice)
1/2 zest of 1 lemon
1/2 Juice of 1 lemon
A handful of jelly tots or fresh raspberries for garnish
Method
1. Whip the cream until it has thickened, and is forming stiff peaks.
2. Sift the icing sugar into the thickened cream, and then gently fold in the raspberries, along with their juice, the lemon zest and juice. Be sure not to mix out all of the air.
3. Taste the mixture, and if too tart, add a little more icing sugar.
4. Pour your mixture into an airtight container, and place in the freezer for at least 3 hours.
5. Add a few jelly tots or fresh raspberries when serving.