news
Newly-Wed Couple Receive Unexpected Blessing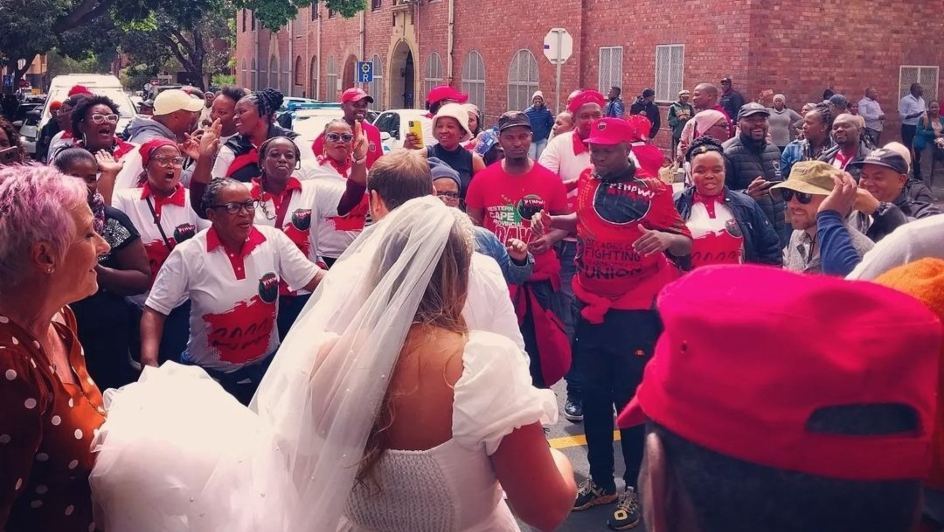 A couple on their way to exchange their vows at a Home Affairs office in Cape Town, South Africa were pleasantly surprised by protestors earlier this week.
"This couple arrived at Home Affairs this morning, unaware of our strike – so we decided to give our blessing to this union (excuse the pun)," said Twitter user, Barry James Mitchell, who shared the endearing video via the social media platform on Monday, 6 March.
In the video, the protestors could be heard singing "umakoti nge wethu" (which roughly translates to "the bride is ours"), a popular South African wedding song.
The unnamed couple were reportedly also married by the watching crowd, turning what was meant to be a minimalist ceremony into a large, cheerful celebration.
"No matter how mad we are as the(sic) country, we never miss enjoying ourselves in the process," user @AfrikanChef_ZA said as they shared a video of the two love-birds tying the knot on the street with a smile on their faces.
According to reports, the strike was originally organised by the National Education, Health and Allied Workers Union which was protesting for a higher living wage.
Image Credit: Source