entertainment
Celeb Twitter Round-Up: Tweeps Accuse Lady Du of Playing the Victim Card
Lady Du is not endearing herself to the Twitter public these days, especially after claiming that she was bigger than rapper K.O. – only to backtrack on those claims and receive even bigger backlash.
If y'all recall, K.O. dropped the diss track "Forecast 23" back in January. In it, he took shots at his former Teargas groupmate, Ntukza. He also dragged Lady Du, with whom he collaborated on the song "SETE", the song which Lady Du mocked for not going gold (not long afterwards, though, it was certified platinum).
In a most recent podcast interview with "The Episode", Lady Du boasted that she was a bigger deal than K.O, both musically and online: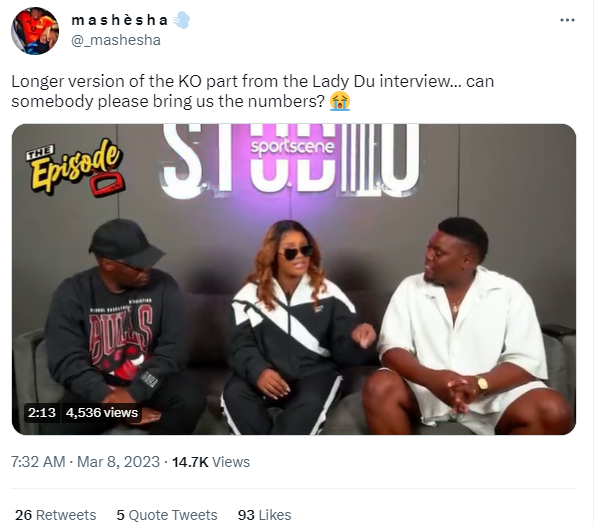 "Go to my social media and check how many followers I have, and go to his followers," she gloated. "Then go to my music, then go to his music. I'm not going to say anything after that … Check the numbers, don't go writing songs, check the numbers."
Her claims rubbed tweeps the wrong way, which prompted Lady Du to do some serious backtracking in a series of tweets on Tuesday, 7 March: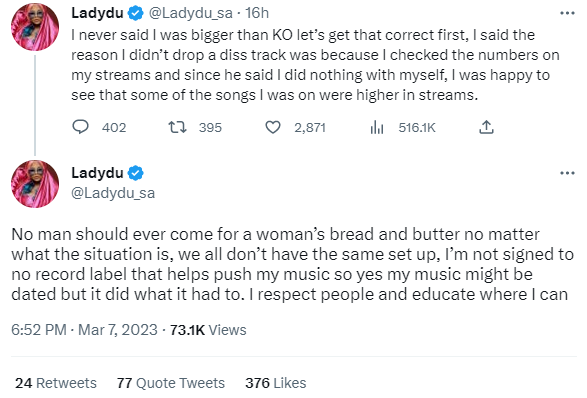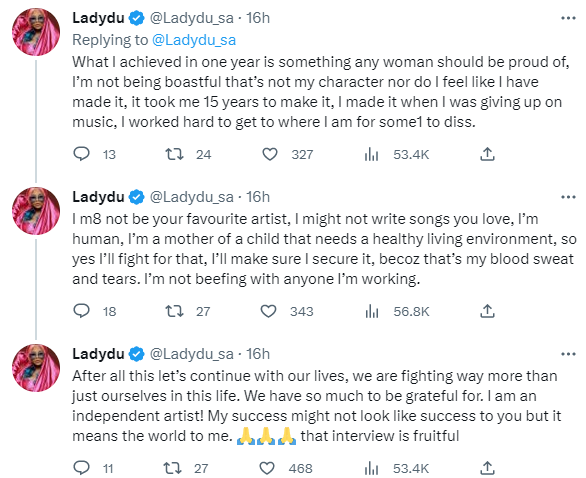 TL;DR, Lady Du denies ever saying she was bigger than K.O and wants life to move on, finish and klaar.
But Mzansi Twitter are calling her out for playing for instigating the drama in the first place: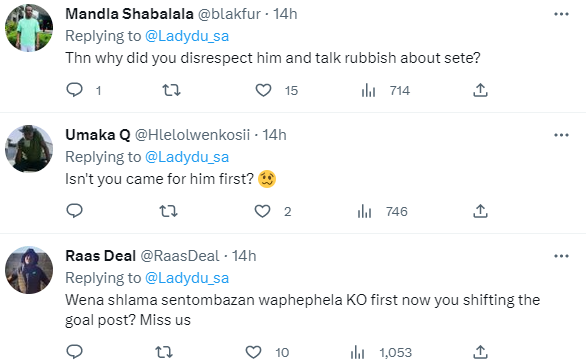 They also reckoned she's got too many victim and gender cards to play: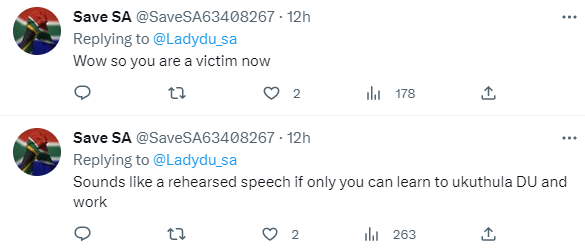 And that's just from the people who read all of her tweets. As for the peeps who didn't bother (or they tried, but didn't buy what she was selling), they tweeted out stuff like this, which may or may not be funny, depending on your mood: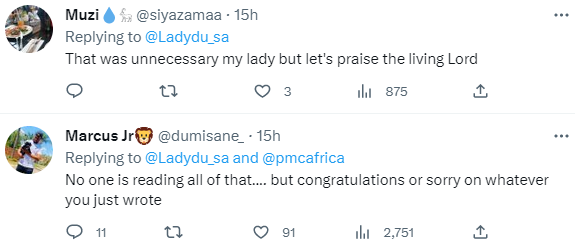 What do you think, folks? Is Lady Du being sincere in what she's saying, or is she (unsuccessfully) trying to cover her tracks? You decide!
Image Credit: Source