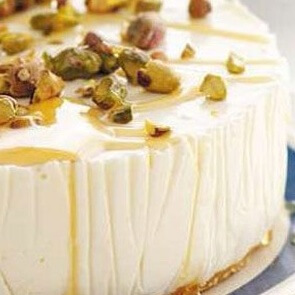 Easy No-Bake Cheesecake
There are few things as good as a delectable, melt-in-your-mouth cheesecake. But who has the time to spend hours preparing and baking?
That's why no-bake cheesecakes have become so popular – they're just as delicious, but take much less time and effort to make.
Try out this recipe for yoghurt cheesecake which needs no baking, and should only take you 40 minutes.
Ingredients:
200 g digestive biscuits
75 ml melted butter
25 ml gelatine
40 ml cold water
Zest and juice of 1 orange
145 ml castor sugar
500 ml double cream
500 ml thick Greek yoghurt
30 ml orange blossom water, optional (available at delis)
A handful of unsalted, shelled pistachio nuts
60 ml honey
Method:
1. Line the sides of a 23 cm springform cake tin with cling wrap – this makes it easier to remove the cheesecake once it has set.
2. Chop the digestive biscuits in a food processor or place them in a thick plastic bag and crush with a rolling pin. Add the butter and mix thoroughly. Lightly press this mixture onto the bottom of the cake tin, but do not press too firmly. Place in the refrigerator while preparing the top layer.
3. Mix gelatine with the cold water in a glass bowl, and leave it to stand until the jelly has set.
4. Heat the orange zest, juice and castor sugar in a small saucepan, and stir over a moderate heat until the sugar has dissolved. Remove from the heat and stir in the jelly until it has dissolved, and then leave to cool.
5. Whisk the double cream and yoghurt, then add the orange blossom water and orange and jelly mixture, then mix thoroughly. Pour the mixture onto the prepared crust in the cake tin and refrigerate until set.
6. Carefully loosen the edge of the springform tin, and remove the cling wrap. Place the cheesecake on a serving platter and sprinkle pistachio nuts on top. Lightly drizzle the honey on top, and serve.
Image: Yoghurt no-bake cheesecake [online image] (2017) sourced on 27 November 2017 https://cdn.24.co.za/files/Cms/General/d/1301/c5bfbab32d674dadaf52d5401f03bde6.jpg