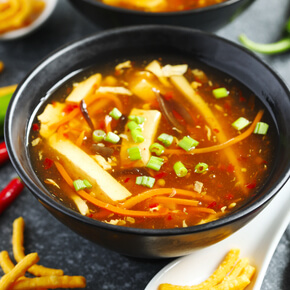 Hot and Sour Chicken Soup
Looking for a more creative starter to serve at an upcoming dinner party?
Look no further! This delicious soup is full of Asian flavours, and allows you to show off your skills as chef.
Ingredients:
1.5L (6 cups) chicken consomme or chicken liquid stock
2 whole star anise
1 cinnamon stick
4cm piece fresh ginger, peeled, thinly sliced
1 stalk lemongrass, bruised
2 (about 200g each) chicken breast fillets
4 cm piece fresh ginger, extra, peeled, cut into matchsticks
2 shallots, thinly sliced
2 red chillies, seeded (optional), thinly sliced
1 cup bean sprouts
1 cup mint leaves
1 cup coriander leaves
1/4 cup lime juice
2 tablespoons fish sauce
Method:
1. Place a large saucepan over high heat, and add the chicken consomme or stock, star anise, cinnamon stick, sliced ginger, lemongrass and chicken breasts. Bring to a simmer.
2. Reduce to low heat, and cook for 30 minutes or until chicken is cooked through and the soup is fragrant. Use a slotted spoon to transfer the chicken to a bowl and set it aside to cool enough for you to touch it.
3. Use a fork to finely shred the chicken. Then, in a medium bowl, combine the extra ginger, shallots, lime leaves, chilli, bean sprouts, mint and coriander.
4. Strain the stock mixture through a fine sieve, and discard the solids. Add the lime juice and fish sauce to the stock mixture. Taste the soup, and then season with more lime juice and fish sauce, if necessary.
5. To serve, arrange the shredded chicken in small soup bowls, and ladle the soup over the chicken.