news
#ThrowbackThursday – 22 June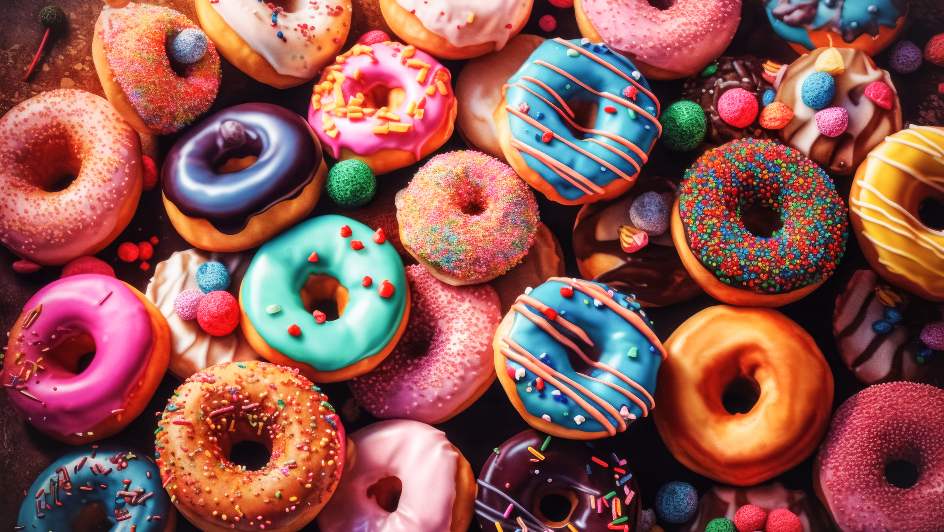 What do doughnuts, an American gangster and Stevie Wonder all have in common? 22 June, of course!
Without further ado, take a look at these three events that went down in history on 22 June:
1847 – Putting the "Hole" in "Whole" Doughnuts (Or, Put a Ring in It)
Time to head down to your local bakery and celebrate, because 22 June marks the day that the ring doughnut was invented – or so the legend goes!
It was on this day 176 days ago that 16-year-old Hanson Gregory, a crewman on a US schooner, had the bright idea to poke holes through the fried dough cakes they served on the vessel.
"Now in them days we used to cut the doughnuts into diamond shapes, and also into long strips, bent in half, and then twisted," he explained in an interview in March 1916. "I don't think we called them doughnuts then – they were just 'fried cakes' and 'twisters.' Well, sir, they used to fry all right around the edges, but when you had the edges done the insides were all raw dough. And the twisters used to sop up all the grease just where they bent, and they were tough on the digestion."
To alleviate this problem, Gregory "took the cover off the ship's tin pepper box, and I cut into the middle of that doughnut the first hole ever seen by mortal eyes!"
Returning to his hometown of Camden, Maine after spending a successful career at sea, Hanson utilised a specially-crafted cutter to make holes in doughnuts while still retaining a ring-like shape. He would teach his mother to use the cutter on her own doughnut creations, which became a sensation throughout the state and beyond. In due time, cooks and bakers began to make doughnuts the same way.
It's not known if ring doughnuts were invented on this particular day (nor is it completely certain if Gregory was the first person to come up with the idea of cutting out holes), but one thing's for certain – we wouldn't eat doughnuts any other way!
1934 – Happy Birthday, Public Enemy Number One!
What would be your perfect birthday gift? A car, a six-course meal at a gourmet restaurant, or perhaps an all-expense holiday to Bali?
For John Dillinger of Indiana, the gift he received on his 31st birthday on 22 June 1934 was quite unusual yet apt: he was declared America's Public Enemy Number One.
The son of a disciplinarian grocery store owner, Dillinger's troubled upbringing and violent tendencies as a young adult – which included a stint in jail – resulted in his becoming a notorious gangster, considered one of the greatest criminals that the Great Depression Era ever produced.
Between 21 June 21 1933 and 30 June 1934, Dillinger and his eponymous gang robbed 12 separate banks across the USA, killed at least 10 men, and broke out of jail three times (one of his jail breaks saw him fatally shooting a sheriff).
Exactly one month after celebrating his 31st birthday (and receiving his Public Enemy Number One status), Dillinger's life of crime came to an end on 22 July after he, his girlfriend and Anna Sage – a friend of theirs – went to see "Manhattan Melodrama" at the Biograph Theatre in Chicago, Illinois. Little did he know that a trap had been set up between FBI agents, the local police and Sage herself.
So, after the movie finished, the trio exited the theatre, where they were met by the agents. Dillinger's near-escape was hardly glamorous – he attempted to flee through an alley. Unfortunately for him, he was shot to death.
1963 – All in The Fingertips
When it comes to musical artists, Stevie Wonder is considered one of the best in the world. He's a singer, a songwriter, a multi-instrumentalist and a record producer … in other words, a musical genius, one who never let his blindness hinder his success.
In fact, you can add "child prodigy" and "youngest artist ever to top the Billboard chart" to the list: Wonder was just 13-years-old when he released his debut single, "Fingertips", on 22 June 1963. Mostly an instrumental track, it showcases the young Wonder's vast talent as he plays both the harmonica AND the bongo drums while vocalising in-between. It also features the burgeoning artist Marvin Gaye playing on the drums!
"Fingertips" was an instant hit among the mass, reaching #1 on the Billboard Hot 100 chart, making Wonder the youngest artist at the time to achieve this feat.
With this achievement in the bag, Wonder has since gone on to become one of the most famous and popular musicians of our time, creating hit upon hit and winning a slew of awards in recognition of his talent – and it's all thanks to "Fingertips"!