news
#ThrowbackThursday – 30 March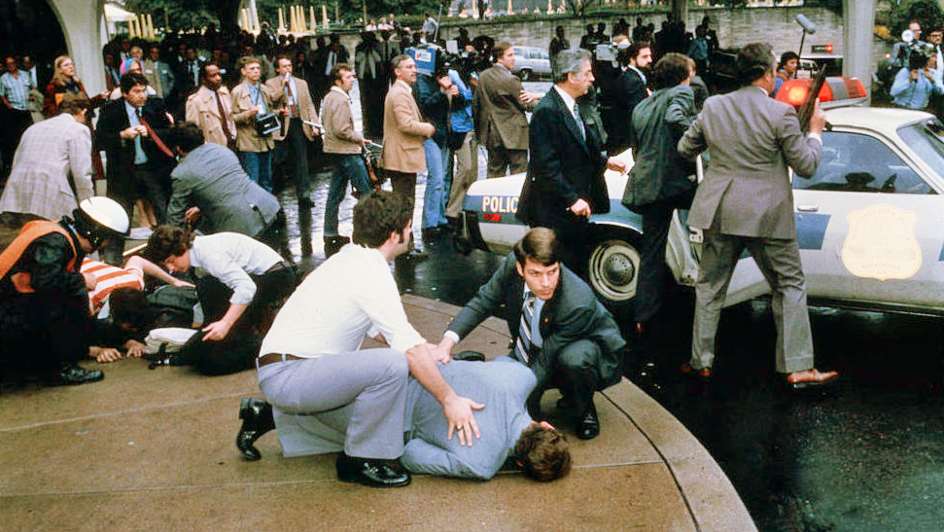 Ah, the 1980s. Colourful, popping and glossy, it was an era of pop culture, politics and consumerism. Oh, aaaand big hair.
These three events below just so happened to take place during this decade, and we're sure you'll agree that you can't get more '80s than that!
So, take a dive into the events that went down in history on 30 March:
1981 – The Day Reagan Was Shot
US history has bore witness to many an assassination on its presidents: Abraham Lincoln, James Garfield, John F. Kennedy … Ronald Reagan narrowly missed being added to the list.
Inaugurated as the 40th president of the United State of America two months earlier, Reagan's term nearly came to an end on 30 March 1981. After partaking in a meeting with the AFL-CIO trade union, he and his entourage exited the Hilton Hotel in Washington, DC. Suddenly, he was shot by a man named John Hinckley Jr. wielding a .22 calibre revolver.
Hinckley fired six shots at the 70-year-old president. One of these rounds ricocheted off the presidential limousine and hit him in the lung, while three of these wounded his press secretary and two of his security personnel. Reagan was immediately rushed to the hospital, into which he apparently walked under his own volition. After undergoing surgery, he spent 12 days in the hospital to recover.
In a comment to his wife Nancy Reagan following the assassination attempt, he said: "Getting shot hurts."
According to Hinckley, he attempted to kill Reagan because he wanted to impress US actress Jodie Foster, with whom he had developed an obsession. As such, he was found guilty by reason of insanity and placed under psychiatric care, where he remained until 2016.
1984 – Tipped to Win
Ever watched "It Could Happen to You"? You know, that Nicolas Cage film in which he plays a cop who splits his lottery winnings with a waitress friend whom he ultimately marries?
Well, here's the real story that inspired it: New York City detective Robert Cunningham was chatting with his longtime friend, Phyllis Penzo, a waitress at South Pizzeria in Yonkers, West Chester County. Cunningham told her that instead of tipping her money, he would split the winnings of a $1 lottery ticket (if it WERE to win, of course). Penzo agreed, helping him choose the numbers.
Two days later, she received a call from Cunningham, who told her that he had indeed won the lotto. The prize? A whole $6 million!
True to his word, the detective split his winnings with Penzo: each got $3 million out of the deal. Each used their money to buy or improve homes, travelling and buying cars. And, unlike the movie, they remained happily married to their respective spouses!
1987 – Multi-Million Dollar Sunflowers
When it comes to how many paintings Vincent van Gogh sold during his lifetime, that area is very murky. Some say he sold none at all, while others believe that he sold at least one.
Nearly 100 years after the Dutch painter's death, his works had become extremely valuable and are sought-after by museums and collectors alike. In fact, one of his works sold for nearly $40 million in 1987!
"Still life: Vase with Fifteen Sunflowers", a 99cm x 76cm oil painting made in 1888 which showed golden blooms in a simple vase, went on auction at Christie's in London, England. In less than five minutes, two anonymous callers bidded back and forth on the price to pay for the prestigious work of art.
Starting with an opening bid of $8 million, the winning bidder proffered up $39.7 million, more than quadruple the amount!
Per a report from The New York Times: "Christie's carefully offered no clue as to the identity of the winning bidder other than to say it was ''a foreign buyer' who would probably take the painting abroad. People who stood about the gallery, lingering like a sports crowd at a championship event, speculated that the contest had come down to two overseas museums, but the auction house would confirm nothing."
The bidder was later identified as Yasuo Goto, a Japanese insurance magnate; "Vase with Fifteen Sunflowers" now hangs in at Seiji Togo Yasuda Memorial Museum of Modern Art in Tokyo.
Image Credit: Source